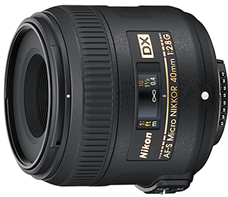 Nikon has a announced a macro lens for DX, the AF-S Nikkor 40mm f/2.8 Micro. This affordable new lens is expected to go on sale in August.

Official page is here. Click here for the samples page.


Personally, I feel that this announcement is an important one, in the sense that it quelled rumours mentioning that Nikon is doing away with the DX format. This shows that Nikon is still committed to producing quality and affordable lenses which cater to the largest segment of their market, the entry-level and mid-level camera users.
A DX-format normal Micro lens for easy, full-fledged close-up shooting
TOKYO – Nikon Corporation is pleased to announce the release of the AF-S DX Micro NIKKOR 40mm f/2.8G, a normal Micro lens for Nikon DX-format digital-SLR cameras offering a focal length of 40mm and a maximum aperture of f/2.8.
As a normal Micro lens that easily enables close-up shooting as close as 0.163 m for life-size images exhibiting pleasing blur characteristics, the AF-S DX Micro NIKKOR 40mm f/2.8G is a new model in the DX-format lens lineup. It is a compact and lightweight lens available at a very reasonable price for those new to digital-SLR cameras and those currently looking to add to a lens purchased as a set with a Nikon digital-SLR camera. In addition to a built-in Silent Wave Motor(SWM) that enables the quiet autofocus operation vital to close-up photography of insects and animals, the AF-S DX Micro NIKKOR 40mm f/2.8G also offers a number of convenient features, including two focus modes—M/A (autofocus with manual override) and M (manual).
Nikon has long had the support of professional and advanced amateur photographers for its consistent development of innovative products that respond to the demands of users and are equipped with the optical technologies Nikon has spent years cultivating as a manufacturer of optical devices. Nikon intends to continue to expand and strengthen the NIKKOR lineup with the steady release of new, high-performance lenses that offer advanced functions.
AF-S DX Micro NIKKOR 40mm f/2.8G Primary Features
A bright and fast, normal Micro lens for DX-format cameras offering a 40mm fixed focal length and a maximum aperture of f/2.8
Enables the life-size reproduction and pleasing blur characteristics possible only with a Micro lens
Enables extremely close-up shooting with a minimum focus distance of just 0.163 m
Equipped with a Silent Wave Motor (SWM) for extremely quiet autofocusing
Equipped with two focus modes: M/A (autofocus with manual override) and M (manual)
A size and weight that makes it very portable